Elinor Chang
Unexpected Parallels Between Fashion Design and User eXperience Design
At the end of the day, the intent of any product is to help the user with their task or goal, so it is critical to invest the time to develop empathy for the user. Empathizing with...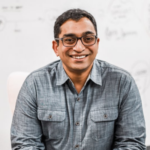 Satyam Kantamneni
Design Is [Business] – The Merging Reality of Design and Business
In this talk, Satyam shares many of his personally hard-won insights about the relationship of business and design. He will introduce key concepts such as "design premium", "business risk", and "impact ratios" that push the conversation further...